COMSOL Conference 2017 — Call for Papers and Posters
Engineers, researchers, and scientists interested in submitting paper and poster abstracts may visitwww.comsol.com/conference/call-for-papers for more information.
Boston: Oct 4-6   |  Rotterdam: Oct 18-20   |  Beijing: Nov 2-3  |
Singapore: Nov 22  |  Taipei: TBA | Seoul: Nov 17  |  Tokyo: Dec 8
The COMSOL Conference 2017 Boston will be held October 4-6, 2017 at the Boston Marriott Newton hotel. The program committee of the 13th annual COMSOL Conference today invites members of the COMSOL community to submit paper and poster abstracts on their numerical simulation work and custom applications.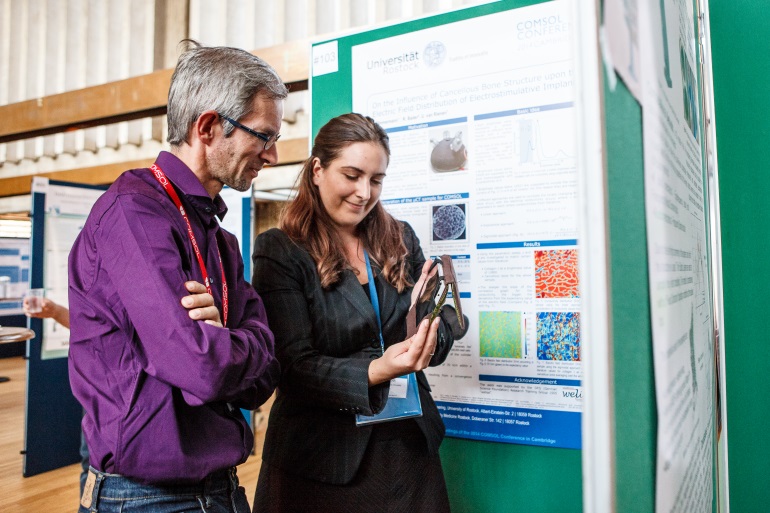 Share Your Expertise at the COMSOL Conference
Papers, presentations, and posters from the COMSOL Conference are presented to a worldwide audience, providing members of the COMSOL community with the opportunity to showcase their work with simulation specialists throughout industry and academia. COMSOL® software users working with similar types of applications discuss and share ideas on how to accelerate R&D and product development processes using multiphysics simulation software.
"Presenting a poster, paper, or both at the COMSOL Conference is a great opportunity for multiphysics simulation experts to achieve widespread recognition within a skilled community of engineers and researchers," says Sarah Fields, Program Co-Chair for the Boston conference.
The deadline to submit an abstract for the COMSOL Conference Boston is June 30, 2017. Instructions for those interested in presenting are available by visiting: www.comsol.com/conference/call-for-papers.
Suggested topic areas for papers and posters include, but are not limited to:
AC/DC Electromagnetics
Acoustics and Vibrations
Batteries, Fuel Cells, and Electrochemical Processes
Bioscience and Bioengineering
Chemical Reaction Engineering
Computational Fluid Dynamics
Electromagnetic Heating
Geophysics and Geomechanics
Heat Transfer and Phase Change
MEMS and Nanotechnology
Microfluidics
Multiphysics
Optics, Photonics, and Semiconductors
Optimization and Inverse Methods
Particle Tracing
Piezoelectric Devices
Plasma Physics
RF and Microwave Engineering
Simulation Methods and Teaching
Structural Mechanics and Thermal Stresses
Transport Phenomena
Papers and posters presented at the conference will be published on the COMSOL website. Explore the contributions to last year's conference at: www.comsol.com/2016-user-presentations.
For more details about the COMSOL Conference 2017 Boston, visit: www.comsol.com/conference/boston.
About COMSOL
COMSOL is a global provider of simulation software for product design and research to technical enterprises, research labs, and universities. Its COMSOL Multiphysics® product is an integrated software environment for creating physics-based models and simulation apps. A particular strength is its ability to account for coupled or multiphysics phenomena. Add-on products expand the simulation platform for electrical, mechanical, fluid flow, and chemical applications. Interfacing tools enable the integration of COMSOL Multiphysics® simulations with all major technical computing and CAD tools on the CAE market. Simulation experts rely on the COMSOL Server™ product to deploy apps to their design teams, manufacturing departments, test laboratories, and customers throughout the world. Founded in 1986, COMSOL employs more than 480 people in 21 offices worldwide and extends its reach with a network of distributors.
(216)