COMSOL News 2017 Inspires Design Solutions with Custom Simulation Apps
COMSOL, the leading provider of software solutions for multiphysics modeling, simulation, and application deployment, has published the latest edition of COMSOL News. The 2017 issue of the company's annual multiphysics magazine presents how engineers and researchers achieve optimal design through company-wide collaboration enabled by simulation apps.
Engineers from manufacturing and sales can easily run simulation apps and interpret the results through app libraries developed in-house with their specific needs in mind. Without being simulation experts, they have access to powerful computational tools. COMSOL News 2017 reports the outcomes that industry leaders have achieved using the COMSOL Multiphysics® software with the Application Builder and the COMSOL Server™ product to deploy apps for the benefit of their colleagues and customers worldwide.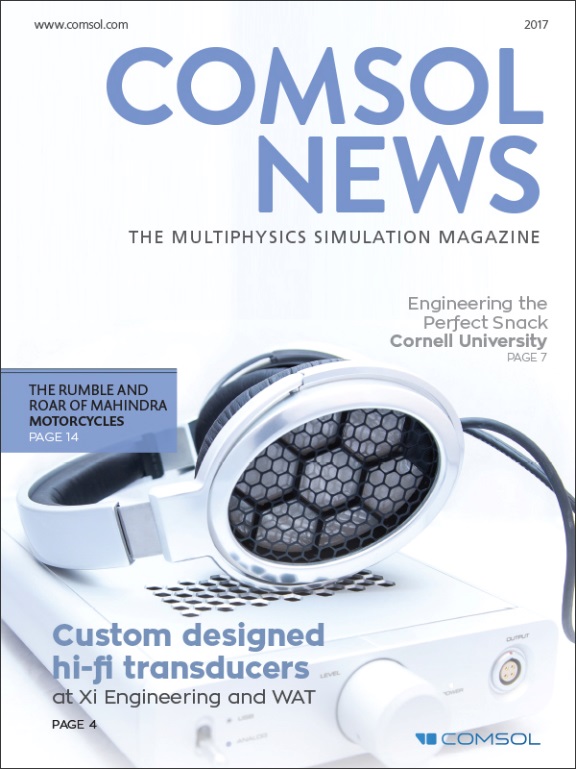 The companies featured in the magazine faced varying design challenges that were solved by adopting multiphysics analysis and deploying simulation apps. "Powerful computational tools and custom simulation apps are changing the way we can engineer the next generation of products," says Valerio Marra, marketing director, COMSOL, Inc. "The engineers featured in this year's edition of COMSOL News are leading the charge in revolutionizing the way that products will be designed and brought to market. Our customers have made it clear that collaboration is the key to success. We hope you are as inspired reading their stories as we were writing them."
COMSOL News 2017 features more than a dozen articles covering a diverse range of projects. Including: custom designed hi-fi transducers at Xi Engineering and WAT, motorcycle development at Mahindra Two Wheelers, and food science at Cornell University.
Availability
COMSOL News 2017 is available as an online magazine and can be viewed digitally or downloaded in PDF format at: www.comsol.com/offers/comsol-news-2017.
About COMSOL
COMSOL is a global provider of simulation software for product design and research to technical enterprises, research labs, and universities. Its COMSOL Multiphysics® product is an integrated software environment for creating physics-based models and simulation apps. A particular strength is its ability to account for coupled or multiphysics phenomena. Add-on products expand the simulation platform for electrical, mechanical, fluid flow, and chemical applications. Interfacing tools enable the integration of COMSOL Multiphysics® simulations with all major technical computing and CAD tools on the CAE market. Simulation experts rely on the COMSOL Server™ product to deploy apps to their design teams, manufacturing departments, test laboratories, and customers throughout the world. Founded in 1986, COMSOL employs more than 480 people in 21 offices worldwide and extends its reach with a network of distributors. www.comsol.com/contact
(137)